Suzuki Method Teacher Training
Teacher training for the Suzuki Recorder Method is now established in the UK
There are currently courses running for ESA Levels 1 to 5.
Click here for details of dates and venues.
Click here to express an interest in  Teacher Training.
Each Level consists of six weekends in London, spread throughout the year, a four day intensive as part of the National Suzuki Workshop at The Royal College of Music in South Kensington, and a five day residential Summer School, this year being held at Malvern in Worcestershire.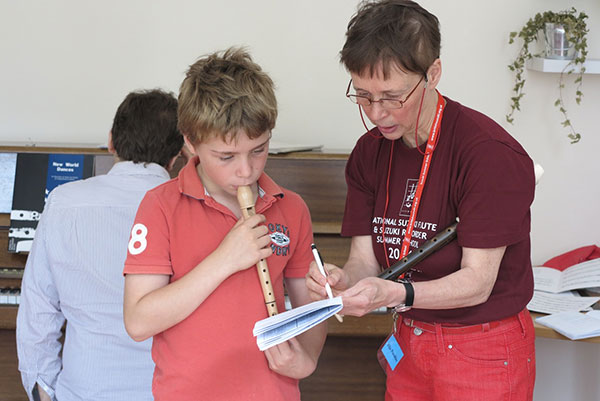 The British Suzuki Institute teacher training course follows the guidelines set by the European Suzuki Association. In order to take the ESA level examinations and gain accreditation as a Suzuki teacher, all teacher trainees must complete the ESA training syllabus and pass the ESA examination at each level.
Trainees usually take a year to complete each level. However, they may choose to take longer if they wish. Except in exceptional circumstances, a minimum of five years is required to complete all examinations and therefore achieve the ESA Diploma and Graduate Teacher status.
What will I learn on the course?
Trainees learn how to implement the Suzuki approach to music education while developing all aspects of their own playing and teaching. Suzuki teachers are specially trained to work with children from the age of three or four, and learn how to foster all aspects of a child's musical growth with a positive and supportive approach and a greater understanding of the need for music in every child's life.
Trainees develop their own performance ability, musical memory, tone production, technique and musicianship, and gain the confidence to instil these skills in their students. With great emphasis placed on observation of other teachers and practice teaching at every level, trainees have the invaluable opportunity to learn from those with many years of experience who can provide constructive feedback on each trainee's teaching skills.
Who is eligible for the training?
The training is available to musicians who wish to develop their teaching skills and undertake the rewarding career of teaching music to young children adopting the philosophy and approach of Dr Suzuki.
As a specialist Suzuki teacher you will have the opportunity to change the lives of hundreds of children as they grow and develop into fine people and talented musicians through the Mother Tongue approach to education.
Entrance to the course is open to candidates over the age of 18 following an interview and performance of the required audition pieces.
Previous teaching experience is desirable but not essential.
Teaching
Teachers will normally be expected to start taking Suzuki pupils about half way through their first year of training. Each level examination passed will be registered by the British Suzuki Institute and the European Suzuki Association.
After completing the Level 3 examination, teachers will become BSI Accredited Teachers.
At the completion of Level 5, teachers will gain the ESA Diploma of Suzuki Teaching and will be recognised as BSI Graduate Teachers.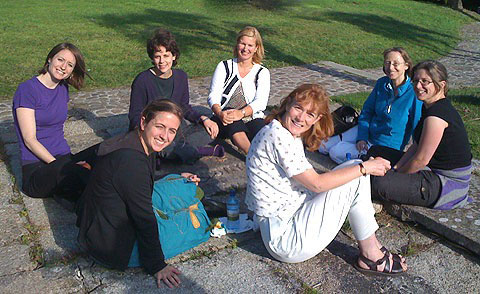 Flute & Recorder Summer School and Teacher Training
3 August to 7 August 2022
London Training Weekends
8/9 October 2022
11/12 March 2023
20/21 May 2023
National Suzuki Workshop and Teacher Training
3 April  to 6 April 2023
Recorder Exams
27 July or 1 Aug 2023 date tbc
Online Tutorial Sessions – Sundays 1:30 to 6:30
18 September 2022
6 November 2022
11 December 2022
15 January 2023
26 February 2023
30 April 2023
11 June 2023
16 July 2023
Comments from Teacher Trainees
"I can honestly say that having completely changed my entire teaching method after 35 years, it has been the best thing I've ever come across, and am thoroughly enjoying every minute of it! Just wish I had come across it sooner."
"This has been a brilliant hands on course that has given me real confidence in teaching and changed my own attitude to learning and playing music. It is a method that really works and it has been great fun getting to grips with it."
"By carefully following how Suzuki's philosopy of 'Everyone can' is practically implemented, I have re-evaluated my personal priorities and now strive for higher ideals in all my teaching."
"Eye-opening, inspiring, equipping and fun – this method has certainly breathed new life into my teaching."